Amigurumi Bowtie Teddy Bear Free Crochet Pattern
In this article we will share the free crochet pattern with amigurumi bow tie teddy bear. You can find everything you are looking for about Amigurumi.
We share everything we know about Amigurumi and Knitting.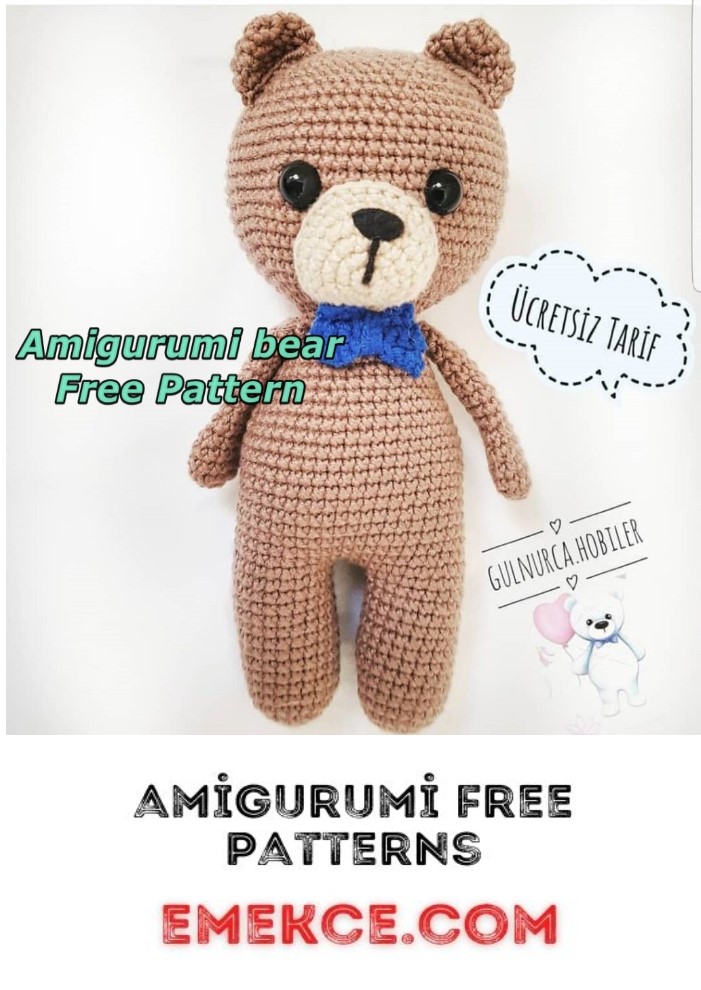 Foot
1) 7sc to the magic ring
2) 7 inc 14sc
3) (1 sc 1 inc) 7 times 21 sc
4-15) 21 sc 21 sc
We combine 2 chains and 3 chains with 48sc
16-28) 48sc
12 rows along the 12 lines until 24sc remains.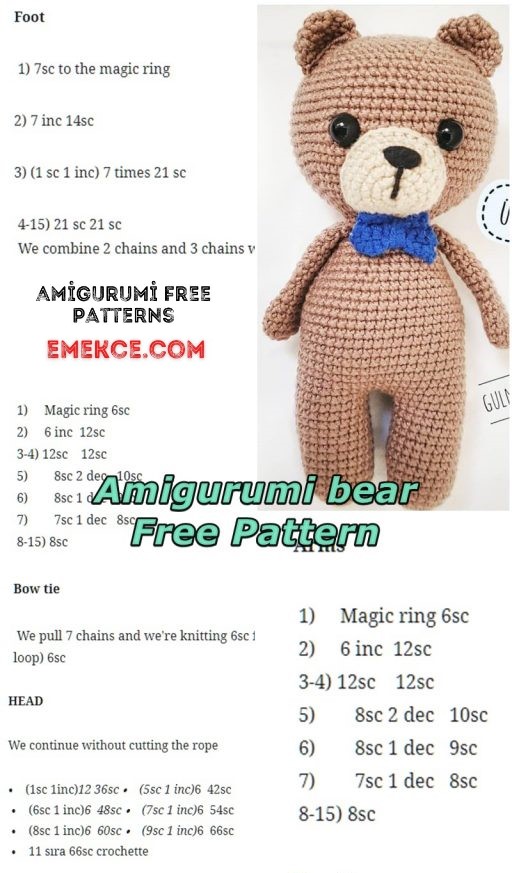 HEAD
We continue without cutting the rope
⦁ (1sc 1inc)12 36sc ⦁ (5sc 1 inc)6 42sc
⦁ (6sc 1 inc)6 48sc ⦁ (7sc 1 inc)6 54sc
⦁ (8sc 1 inc)6 60sc ⦁ (9sc 1 inc)6 66sc
⦁ 11 sıra 66sc crochette
⦁ (9sc 1 dec)6 60sc ⦁ (8sc 1 dec)6 54sc
⦁ (7sc 1 dec)6 48sc ⦁ (6sc 1 dec)6 42sc
⦁ (5sc 1 dec)6 36sc ⦁ (4sc 1 dec)6 30sc
⦁ (3sc 1 dec)6 24sc ⦁ (2sc 1 dec)6 18sc
⦁ (1sc 1 dec)*6 12sc
⦁ 6 dec 6sc
Mouth
Magic ring 6sc
6 inc 12sc
(1sc 1 inc) 6 kere 18sc (2sc 1 inc)*6 24sc 2 row 24sc
Ears
⦁ Magic ring 6sc
⦁ 6 inc 12sc
⦁ (1sc 1 inc)6. 18sc
• 18sc
Arms
1) Magic ring 6sc
2) 6 inc 12sc
3-4) 12sc 12sc
5) 8sc 2 dec 10sc
6) 8sc 1 dec 9sc
7) 7sc 1 dec 8sc
8-15) 8sc
Bow tie
We pull 7 chains and we're knitting 6sc from row 2 to 6sc (from the back loop) 6sc