Amigurumi Velvet Weft Dog Free Crochet Pattern
Welcome to our website where you can find the most beautiful and highest quality samples of Amigurumi patterns. All the amigurumi patterns you can't find are available on our website. Every day we continue to share new amigurumi patterns for you. Stay tuned to reach these amigurumi patterns before anyone else
Abbreviations:
Sc – single crochet,
inc – increase,
Dec – decrease
Hdc – half crochet,
Dc : double crochet.
Materials:
I used plush yarn from jarn art dolce, you can take an analog, hook
4,5mm. White parts are two-thread software. For peephole, nose and sewing
Details I used Vita Coco 100% cotton.
If you knit from software, then you need to knit in two threads.
Consumption yarn art dolce less than a skein, if from software then a skein.
About plush yarn: the yarn is very pleasant to the touch, the toys are soft and
squeezing))). When knitting, it can crumble a little, spread apart. To dissolve
knitting from this yarn is not possible, the thread will not be uniform. Stitch the details of this
I do not recommend yarn. Loops when knitting are clearly visible, it is very convenient. Not
I recommend knitting too tightly, the toy will be rude or vice versa
too large, as there will be holes, gaps, which does not look very
aesthetically pleasing.
The sprout of the dog comes out about 22 cm.
Description:
We start to knit from the head, at the dog the head and body fit together.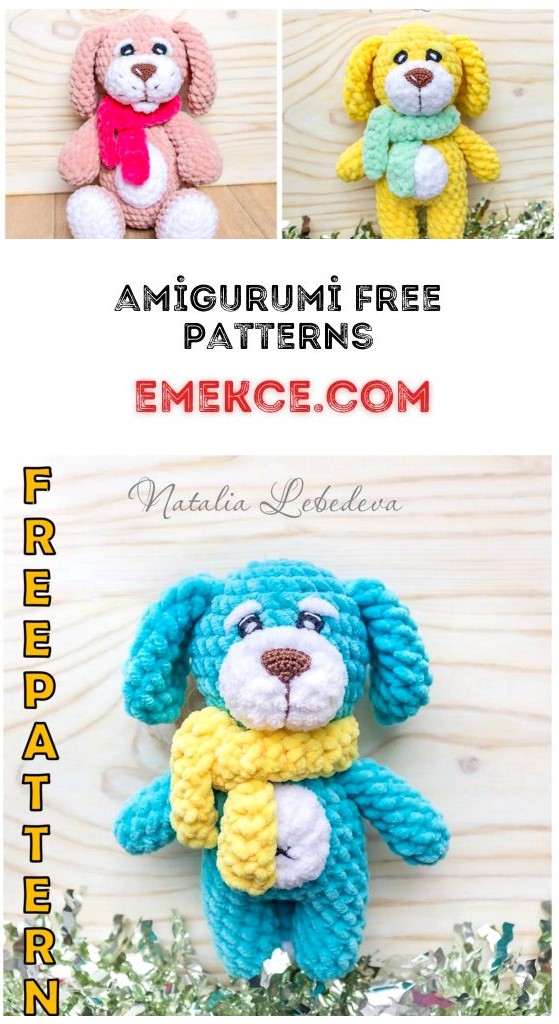 Head.
1. – 6sc into magic ring.
2.- inc * 6 times (12).
3. – (1sc, inc) * 6 times (18)
4. – (2sc, inc) * 6 times (24)
5. – (3sc, inc) * 6 times (30)
6 – 9.30sc (4 rows)
10. – (3sc, dec) * 6 times. (24)
11. – (2sc, dec) * 6 times. (18)
12. – (1sc, dec) * 6 times. (12)
13. – 12sc.
Without interrupting knitting we knit the body continue.
14. – (1sc, inc) * 6 times (18)
15. (18)
16. – (2sc, inc) * 6 times (24)
17-22.22sc (6 rows)
To fill my head with filler, I use holofiber.
After that, without breaking the thread, we knit immediately the first leg. We knit 10 sc by setting
marker in the first loop. Then we knit 11 stitches in the first, where the marker is,
this will be the beginning of the row, this will be the first loop of the second row. And so 4 more rows of 10 loops. Then, five decreases, close the knitting, cut the thread. It turns out
23 – 27 row of 10 sc.
We pass to the second leg.
We retreat from the first two loops and knit like the first, 10 sc, connect and so on.
It turns out between the legs two loops, into this hole we stuff the toy. Behind
so sew this hole folded in half.
Pens 2 pcs.
We collect two loops and in the second we knit 4 sc.
2.- inc * 4 times (8)
3 – 9. – 8sc
Fill the handle a little, fold in half and knit 3 sc over the edge. Crop
fasten and hide the thread.
Ears 2 pcs.
1. – 6sc into magic ring.
2.- inc * 6 times (12).
3 – 7. 12 sc.
8. – (4 sc, dec) * 2 times (10)
9 .– 10 sc.
Fold the eye in half and knit 4 sc.
Break the thread, hide.
Muzzle (I knit white software).
We collect 5 air loops. In the 2nd from the hook cases inc, 2 sc, 3sc to the extreme,
continue to knit in a circle, 3 sc.
2.- 2inc, 2sc, 3inc, 2sc, inc. (16).
3. – (16), break off and fix the thread.
Puziko oval (white).
1. – 6sc.
2.- inc * 6 times (12).
3. – hdc, 2dc in one loop in the second, hdc. There's no need to tie a row,
fasten, cut the thread.
Tail.
1. – 6sc, The beginning (tip) can be connected with white, two rows.
Next, we knit the number of rows according to your taste according to 6sc.
Eyes (I knit Coco Vita).
1. – 6sc.
2.- inc * 6 times (12).
Leave the thread for sewing.
Spout (Coco Vita).
We knit a triangle of the size you need in the way with
the presented scheme with single crochet.
Scarf.
We collect a chain of 43 air loops. Start knitting in the second loop from
hooks, we knit one row with double crochets, fasten, cut the thread.
Build a dog.
Sew the ears to the head between 3 and 4 rows. Sew the muzzle under 6 next.
Spout for your taste. On the eyes make white highlights, sew the eyes, eyelids
made at will. Sew on handles, belly, tail. Tie a scarf and
the dog is ready. If you want to make the handles movable, you can sew them
in the way of button fastening, I am stitching through a toy, from button to
a button – a "shuttle". I flash back there several times.