Amigurumi Rattle Sun Free Crochet Pattern
Baby crochet rattle "sun"
Kathleen Herrmann
Material:
– Catania Schachenmayr in sun, white, red and 12 other arbitrary colors
– Crochet hook 2.5
– 30 mm divisible acrylic ball (these are available in Rayher), failing that, a Monoblocs (going as the sun should, without
However, being larger, otherwise the sun will not soft and you can feel the noise.
– Pebbles or rice for the right sound
– fiber filling
– Needle darning, scissors
– Round marker
Some important tips
– All rounds, unless otherwise noted, begin with a "magic ring" thread ring.
Alternatives, you can start with two CHs. The first Rd. Starts from the second CH of the needle.
– Unless otherwise stated, it is knitted in continuous spiral rounds.
– When stuffing you have to make sure that the rattle has a nice shape and the so-called rattle
is not noticeable from the outside.
– I always design the faces with a lot of love and concentration.
– The numbers in brackets at the end of each round / row indicate the total number of stitches.
ABBREVIATIONS:
ch – chain
sc – single crochet
inc – increase
dec – decrease
hdc – half double crochet
dc -double crochet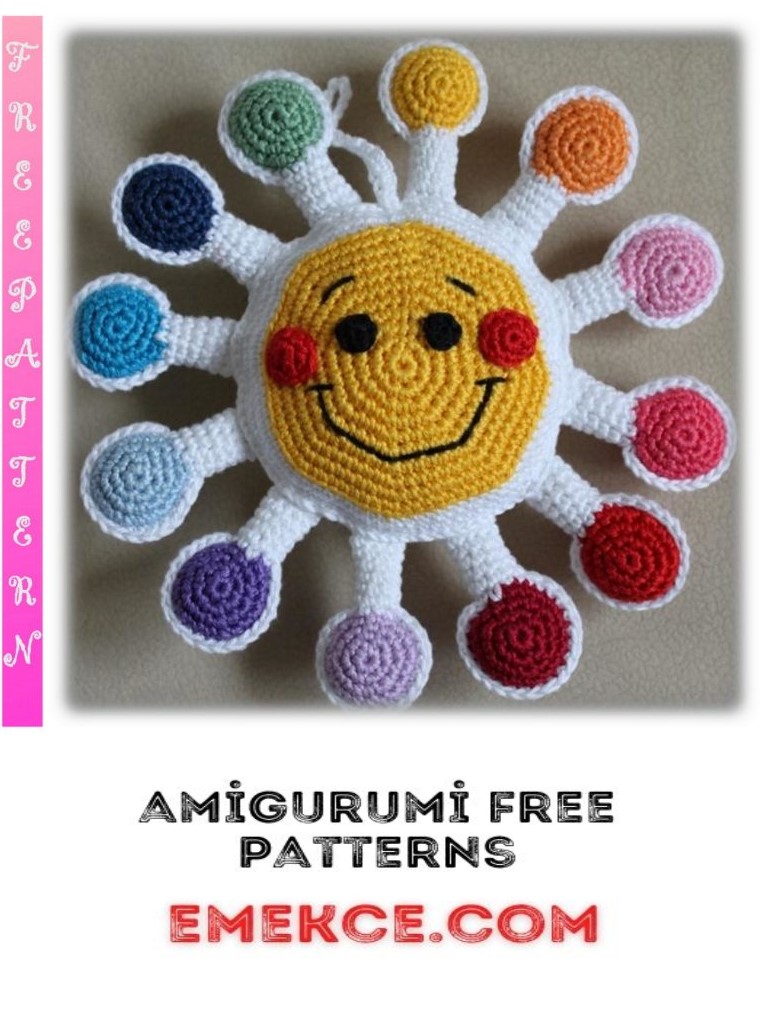 Body:
All rounds end with a slip stitch and begin with an air stitch.
1st round 8 sc in Magic Ring (8)
2nd round İnc (16)
3rd round İnc 2 Sc. (24)
4th round İnc 3 Sc. (32)
5th round İnc 4 Sc. (40)
6th round İnc 5 Sc. (48)
7th round İnc 6 Sc. (56)
8th round İnc 7 Sc. (64)
9th round İnc 8 Sc. (72)
10th round İnc 9 Sc. (80)
11. Rd. Color change to white
only in the back stitch sc (80)
12th round İnc 10 Sc. (88)
13th round İnc 11 Sc. (96)
14th round 96 sc (96)
Bind off one of the two bodies and sew the thread. Do not bind off the 2nd body and do not wool
cut off so that the two halves can later be crocheted together with the rays.
Sunbeams:
1st round 6 sc in Magic Ring
2nd round İnc (12)
3rd round İnc 2 Sc. (18)
4th round İnc 3 Sc. (24)
Bind off and sew the thread.
Now 24 of which 2 each have the same color
should.
Now place the respective colors on the left side and crochet with single crochets, except for
there are 4 stitches left on both sides.
Now only crochet 4 sc on the front circle and connect to the back circle, so that in the new circle
9-10 stitches arise.
Now crochet 5-6 rounds. Stuff rays, but not up to very high, otherwise it will be too difficult for
crochet together. Then bind off and sew the thread.
Now everything is put together. How you do that is up to you. I crocheted everything together.
Place rays in the 4th round between both parts of the body. Now with 4 SL-ST over the last round of the two
Parts of the body and between the 4th and 5th round of the beams, then with 4 SL-ST only the two halves
Crochet together and then continue with the next ray until all rays are crocheted. The
Crocheting together is very difficult, since you have to go through 4 rows, but I find it nicer than sewing together.
Mientras que el sol junto a poco las cosas y poner la bola de acrílico incl. Llenado central y se envuelven en
algodón, por lo que no se puede sentir desde el exterior.
Como conclusión, he cosido un gancho, pero no es imprescindible. Por esta huelga de 30 CH y desde el
10 de CH visto desde sc gancho de ganchillo vuelta.
cara
Eyes (2x):
1 round 5 sc in MagicRing
hang to sew discarded and a long thread.
Cheeks (2x):
1st round 6 sc in Magic Ring
2nd round inc (12)
hang to sew discarded and a long thread.
The face can now be sewn.