Air Fryer Chicken Tacos Recipe – Easy and Healthy
If you're looking for an easy and healthy recipe for taco night, you have to try these air fryer chicken tacos. Not only are they delicious and crispy, but they're also much healthier than traditional fried tacos. Made with boneless, skinless chicken breasts and seasoned with chili powder and cumin, these tacos are bursting with flavor and perfect for any occasion. Plus, they're super easy to make in the air fryer, so you can have a delicious meal ready in no time.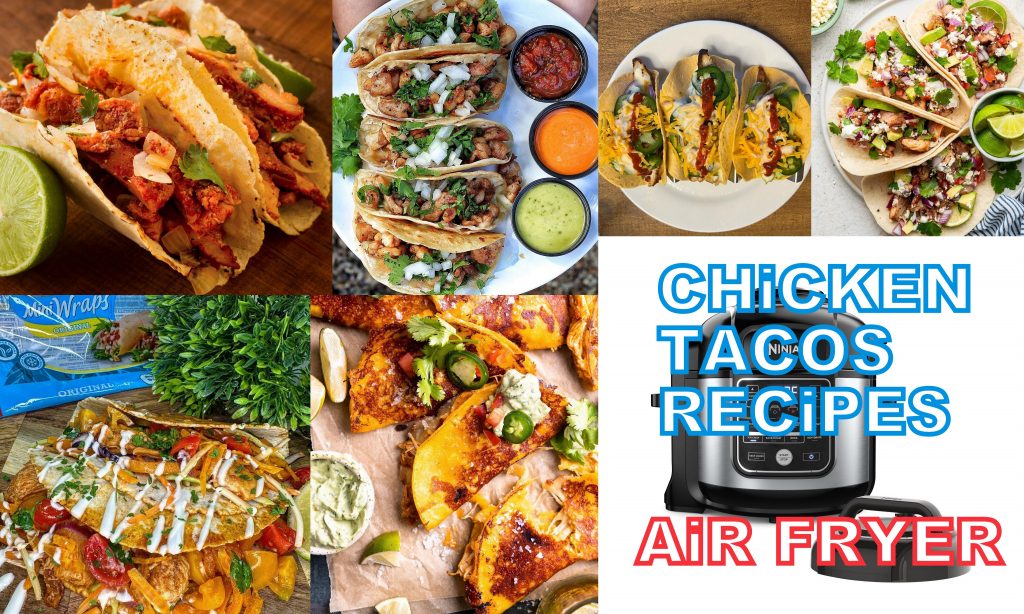 Ingredients:
1 pound boneless, skinless chicken breasts
1 tablespoon olive oil
1 tablespoon chili powder
1 tablespoon ground cumin
1/2 tablespoon garlic powder
1/2 tablespoon onion powder
Salt and black pepper, to taste
8-10 small tortillas
1 cup shredded lettuce
1/2 cup diced tomato
1/2 cup shredded cheddar cheese
1/4 cup diced red onion
1/4 cup chopped fresh cilantro
1 lime, cut into wedges
Instructions:
Preheat the air fryer to 375°F.
Season the chicken with salt and black pepper.
In a small bowl, mix together the olive oil, chili powder, cumin, garlic powder, onion powder, salt, and black pepper.
Brush the chicken with the spice mixture.
Place the chicken in the air fryer basket and cook for 12-15 minutes or until cooked through, flipping halfway through.
Remove the chicken from the air fryer and let it cool for a few minutes.
Use two forks to shred the chicken.
Warm the tortillas in the microwave or on a skillet.
Assemble the tacos by placing shredded chicken on each tortilla, followed by shredded lettuce, diced tomato, shredded cheddar cheese, diced red onion, and chopped cilantro.
Serve with lime wedges on the side.
Enjoy your delicious and healthy air fryer chicken tacos!
These air fryer chicken tacos are a must-try for anyone who loves Mexican cuisine. With their crispy texture and bold flavor, they're sure to become a family favorite. Plus, they're so easy to make in the air fryer, so you can enjoy them any day of the week. So next time you're craving tacos, give this healthy and delicious recipe a try!